Real-time positive impact with every payment and an in-app marketplace as a guide towards conscious consumerism
We are super excited and very proud to be partnering with Novus app, the banking app with genuine ethical practises. The mission driven start-up that is shaking up the banking industry in the UK.

Why we like them?
With Novus, every time a user taps their card, real-time 'impact' coins are donated to various environmental and social NGOs supporting causes such as funding meals and cleaning oceans. Novus funds these donations from its own revenues without extra charge to the users.
What is so clever?
Novus users can then follow their impact to see just how much of a difference they are making with every purchase without costing an extra penny.
What are we doing on the app?
We are one of the specially selected ethical brands on their app, when you decide to purchase an item from our site using the novus banking card or app, your purchase is making a difference in your carbon footprint.
The ethical digital bank facilitates this by using the interchange fee (the classic debit card fee your bank collects from a merchant whenever a customer makes a purchase) and share that fee automatically with the impact causes of your choice within the app. Through 10 transparent NGO partners, you can choose whether you want your contribution to plant trees, donate books, provide clean water, save turtles, and more.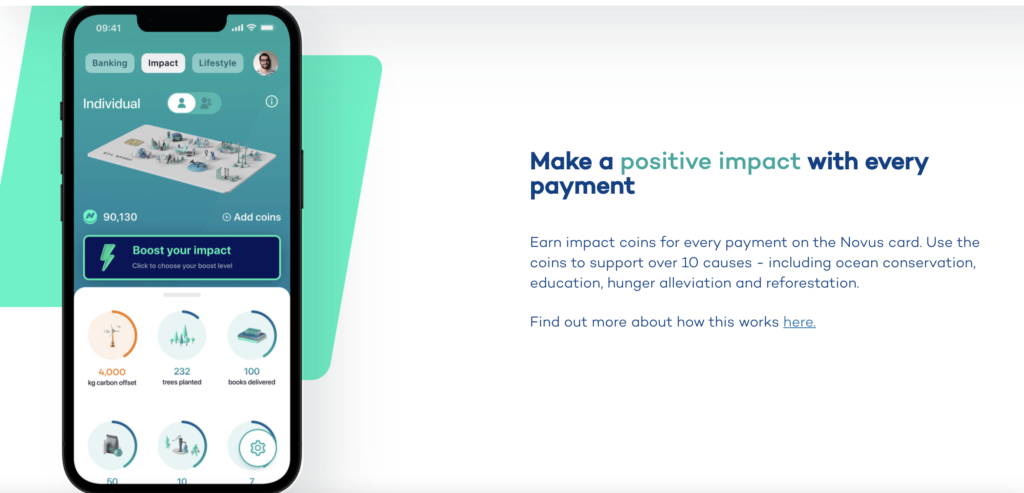 And most importantly they are certified B Corp…
Fully B Corp certified and partnered with payments provider, Visa, Novus is a mission-driven organisation with a vision to become the 'Super App' for the growing conscious consumer segment.
We have not found any other banking app with such sustainable practises, with every aspect of their ethos is ethically minded, if you are interested to sign up, have a look here.