In the past we have spoken about conscious shopping and buying from independent brands, we also like to encourage people to repair, reuse, repurpose and upcycle their clothing.
It's important to learn these skills, using simple techniques of sewing with contrast yarn, adding scrap fabric and sewing motifs, these can reinvent the dullest of items. That is why we have created fun in person workshops explaining the simple steps on how to repair your clothes/knitwear.
Take this example pictured, it was an old, damaged loveless jumper, now with some contrast colour and showing the holes in a new light, it is up to date and something new.
We have been told many times from people that they cannot sew, or even thread a needle, in our workshops, we break down each stage at a slow pase so that it's easy for anyone to follow.
In the meantime, we thought to add some simple techniques here as well as helpful videos for you to try at home, at your own pase.
Visible mending is essentially highlighting the damaged area that needs repair, whether it is with a contrast colour, using a variety of sewing techniques. By repairing your clothes, it is a great past time, you learn a soothing technique which is calming and is proven to make you feel good on the inside. Mending is also a great way to salvage and upgrade your clothes, saving tonnes going to landfill. Reuse, recycle and repair.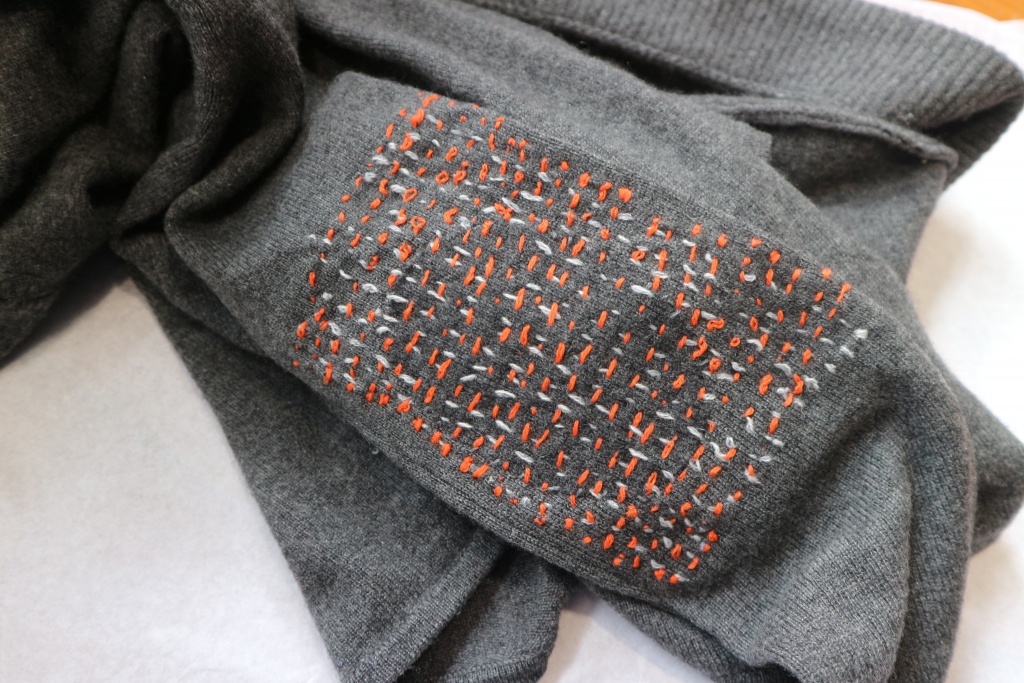 First example here is simple technique, this is a satin stitch, we like this as it really pronounces the hole even further, but it is beautified with the contrast colour and very quickly turns an embarrassing hole into something fun.
Applique is a great way to use scarp fabric, even woven onto knit, its usually fast than just stitching as it covers larger areas, you can even double contrast, by using a different colour fabric with the sewing thread. It's a great way to mend large holes. You can use any stitch type to sew on scrap fabric, chain stitch is really fun and decorative.
Darning is very popular as it covers the holes very neatly, especially with socks, this allows a more comfortable feel when wearing the socks. This is very therapeutic and time consuming, as you need to neatly weave through the opposite direction each time, so requires concentration, however, its very fun and the results are worth it.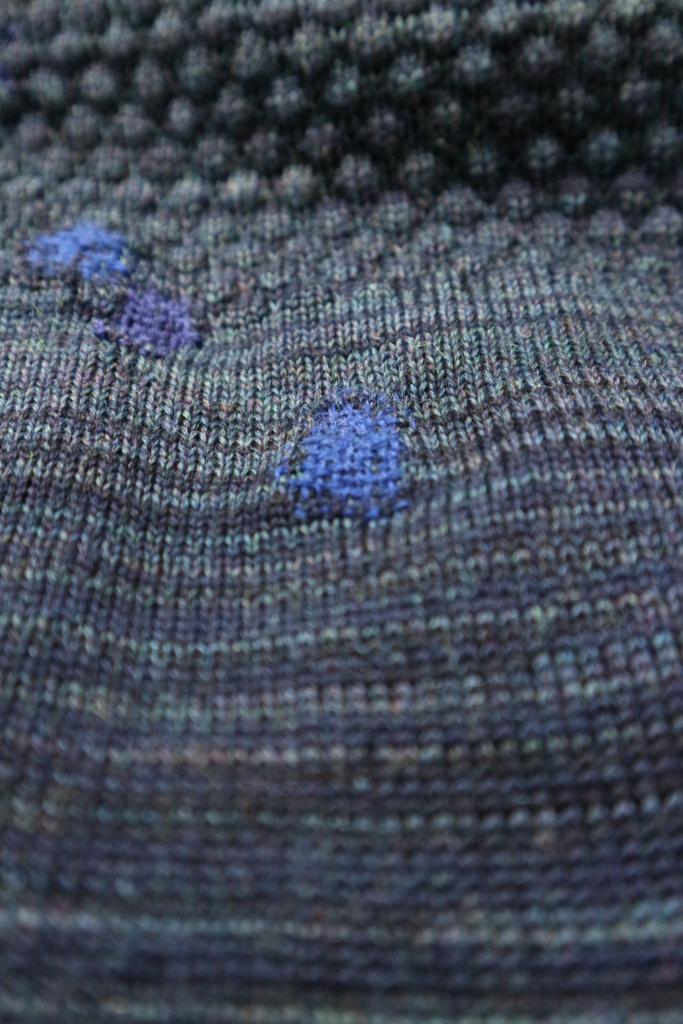 Another example is the duplicate stitch, it is rather tricky to understand, but once you know, it is very addictive. It only works if there is some knit to work with, so not suitable for holes, but great if you have stains or when the knit has worn off, like on a heal of a sock.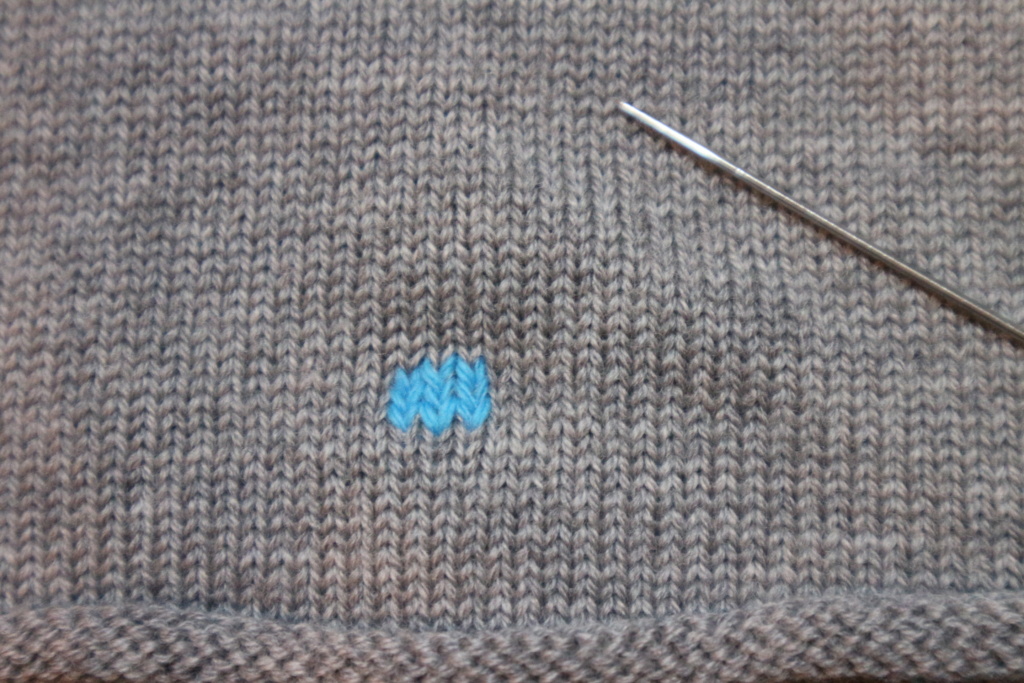 Whatever technique you choose, could be all if you like, it is important to just start and not be afraid that you will ruin your work, the item is already damaged and its worth trying simple techniques first, it will look so much better even if you are seemingly bad at sewing.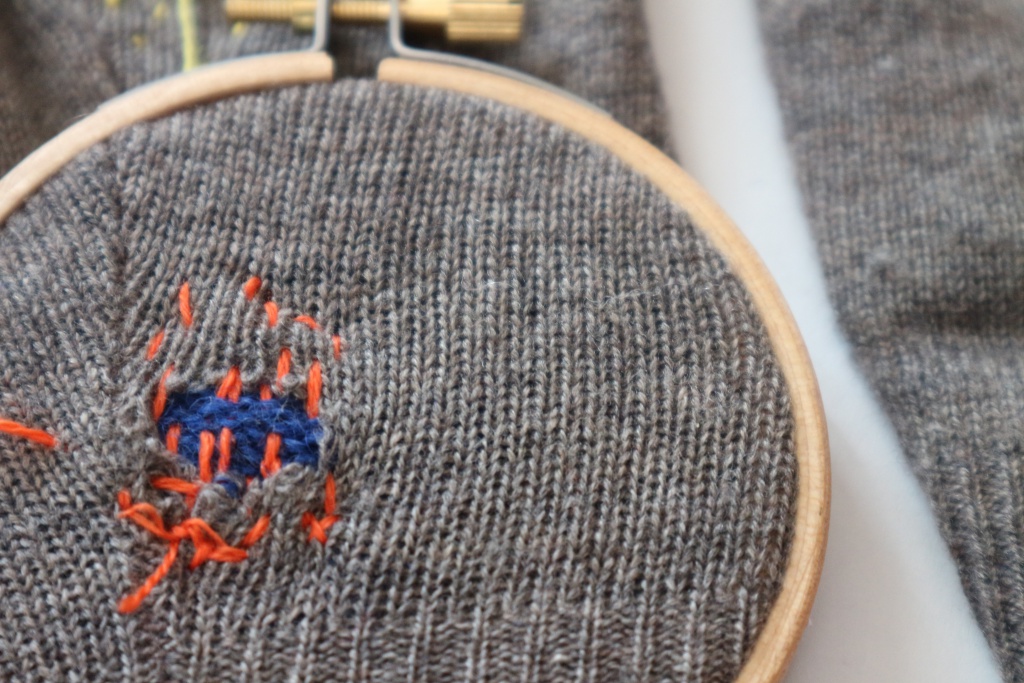 Our workshops are irregular but keep posted on our newsletter and events page for more to come.