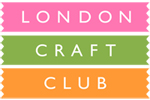 Thanks to London Craft Club for the featured blog post of our making and machine skills.
Here is a snippet of the post, click above for the full post.
Secrets of a Professional Knitwear Designer and Maker
Most of us at LCC know how to knit – but not like Valentina! You might know Valentina as the utterly lovely regular host of our Craft Life events. But did you know that she is also a professional knitwear designer, specialising in machine knits?
We've decided to shine a bit of a spotlight on her and her fascinating skills, because next week you can see her in action for yourself.