As you may know, we are all about zero waste, we like to utilise all our pieces and maximise what we already have. As you can imagine we are so many things that can be made from lovely, damaged knitwear. While others may throw their knits away, we up cycle our knits. We even teach workshops on how to do this.  
One of the workshops we have done is to up-cycle shrunken jumpers and turning them into mittens. These have been very popular and is a great way to create gifts for yourself as well as a great gift for others. Learning the skill of up cycling is also therapeutic and a fantastic alterative to buying fabric from scratch and creating something new. Having the restriction of the seams and components of the jumper can actually have a positive design solution and create more of a unique finish.  
In the up cycle jumper mittens workshop we provide you with a basic fingerless glove pattern, all the tools you need and the expert sewing guidance to create something new, while being sustainable.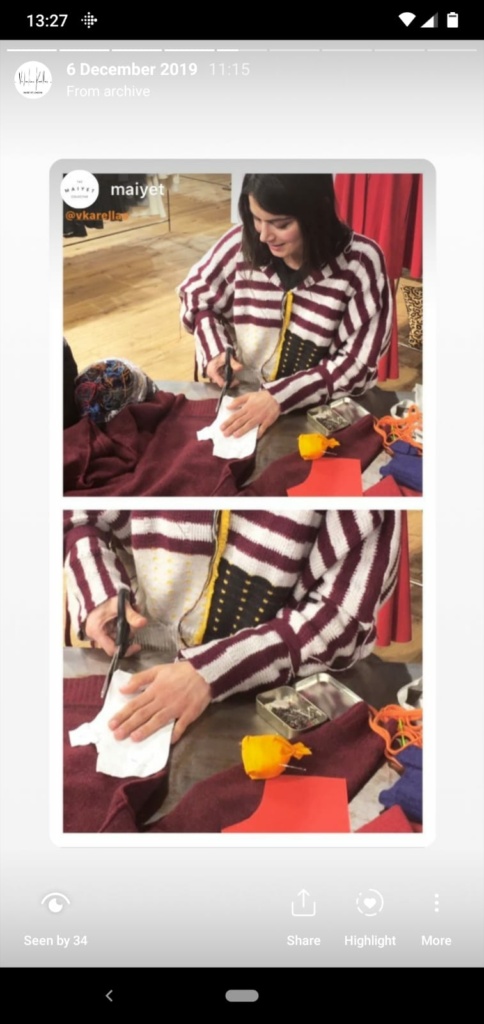 By reusing, regenerating, re purposing your damaged, unwanted unwearable knitwear, this is the best way to keep the lifecycle of your knits last longer and save them from landfill.
The ideal jumpers to use will be cashmere or wool, this is because if it is felted it seals the seam when cutting and no need to overlock and do extra stitching.  The thread we use to seam the jumpers together, are the yarns that broke while knitting, which are unable to be used to make a garment, so the entire process is very succinct  and zero waste.
There is no need for a sewing machine, however, this will make the process faster. We teach basic sewing chain stich along the seam, where it is secure and perfect for stretch fabrics. 
Another great idea is to make soft cuddly knitted toys and teddys, this is where you can get creative, mixing colours and shapes, it is also a great pass time to teach your kids simple sewing skills, keeping their hands occupied and to create lovely up cycled toys that can be gifted and treasured for years to come.  
What you need for an up cycle project are a few basic sewing tools that most of us have at home. To reuse your old damaged knitwear; you will need a sharp fabric scissors b. damaged knitted piece, sewing needles, thread, perhaps even some buttons as a feature. 
Upcycling damaged/shrunken jumpers is not about having enough money to buy new jumpers or mittens. It is about preserving fabrics and items from going into landfill, causing them to rot for hundreds of years. It is also about preserving hand craft, artisanal sewing skills and is a great hobby. 
 Take a look at our events page for up coming workshops HERE.