What makes us an ethical fashion brand?
We wanted to share all the reasons why we are sustainable or, as we prefer to say, ethical. The term sustainable fashion has sadly become so overused that consumers have become either numb to the word or rather confused.
So, we thought we'd explain stance that makes us a genuinely ethical clothing brand….
Sustainable fashion and the planet
Working for fashion suppliers and fast fashion brands, and seeing the belly of the beast first-hand, is what spearheaded the creation of this knitwear brand. We knew things could be done differently, and better.
However, we recognise that ANY item that is being made uses some level of energy and resources from the earth. In the simplest terms, fabrics are made from fibres, fibres are either natural or synthetic, and both require energy to be produced.
One you have your fibres, you have to turn them into fabric and then make the garment – this requires machinery, electricity, and printing inks – which could be toxic. Then there's the huge water consumption to wash the fabrics and finished garments.
Buying clothes is not a sin. It's the quantity of clothes that are being produced, and ultimately discarded, that's the issue.
We need to appreciate each garment.
How we reduce our impact on the planet
Yarns: We use yarns that are over stock, end of stock, no longer wanted by brands or manufacturers, pre consumer waste. We save these yarns from going to landfill. Since the launch in 2016, we have managed to salvage 200,000 kilos of over stock yarn. We make sure to utilise every fibre that we have, for every gram that doesn't get knitted in the making process, we then utilise the scraps back into our accessories or for mending projecting.
Making: Each item is made using a hand powered vintage knitting machine. All that is needed to power the machine is a bit of arm strength and years of technical knowledge. We also 'shape' the pieces, which his hours of calculations and trials on the machine but means there is no cut and sew, and nothing is left on the workshop floor to discard. All swatches and miscalculated samples get unwound and re-knitted.
Made to order: We begin knitting as soon as an order comes in, on a first come-first-serve basis. This minimises waste and encourages people to buy only if they truly love it –, all our customers are willing to wait, with anticipation, for their garment to be made. As such, we don't really have a surplus of stock. The only stock we do pre-make is very limited, for pop-up shops and craft fairs, but whatever comes back unsold, is then taken to the next show/event until it is all gone.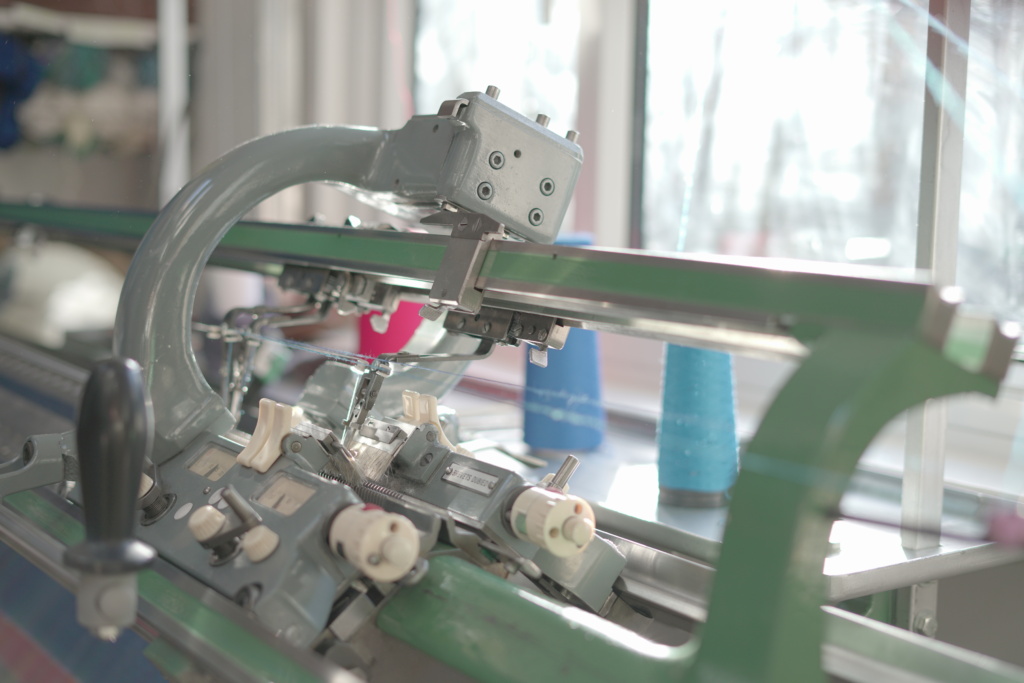 Zero waste: As mentioned above, every item is hand-framed and meticulously calculated so that there is no cutting. Any yarn that is non-knittable , is either used for our accessories, or for embroidery and other projects. Samples are all saved and used. As are Any incorrect samples are unwound and re-knitted rather than discarded. This is pretty much unheard of in factory production.


Transparency:  For the past two years he we have been working on how to inform our customers of exactly the amount of energy and time used to create each piece. So, after months of calculating and researching, we are now able to include a  care label with all details such as time spent making the item, how much water was used to wash the item etc. 
Education: We try to actively encourage our followers not to buy new and to utilise their current wardrobe. We also hold sewing and mending workshops, to teach you how to save your items. We have held online university lectures teaching students how to create an ethical brand and how to encourage ethical practices. On our blog page we instruct on our customers how to take care of their knits, so they will last and last.
Visible mending: We have added a visible mending service to our website. We know that many people have lost the skills to sew or do not have the confidence to mend their damaged knits. Therefore, we are offering a service where we can upcycle your clothes using various traditional hand sewing and mending techniques, and make your existing items last longer by adding a touch of love and design to them.
Inclusivity: We want our pieces to suit all t people of all genders and sizes. We purposely vary our models, showcasing different ages, racial backgrounds and physical abilities. We have a gender-fluid range of products that are loosely made to fit sizes from 8 – 20. We are always looking to increase our range of sizes This takes time as everything we do is manual, but this is a work-in progress.
Packaging: Since our launch we have always used cardboard boxes and paper envelopes made in the UK. These are reusable, very light and take less energy to transport. We tie our envelopes and boxes with the waste yarn that was too damaged to knit with.
Charity: We have supported charities like Bloody Good Period by donating 10% of our profits to their cause, as well as fundraising in our pop-ups and donating 100% of sales from specific items to the cause. We will continue to review other charities that are close to our hearts and do the same. Bloody Good Period helps ladies in the UK at refugee sites who do not have access to sanitary products.
Why do we NOT have certification?
This is a very long conversation, but very briefly, certification usually requires very to specific conditions, such as certifying the fabrics a brand uses and this is very difficult when using waste yarns. We don't have fair pay certification as all the pieces are handmade in our workshop by me, so there is no staff to pay. Lastly, carbon footprint certification is very costly. If we were a large factory using up a lot of energy, this is something we would certainly do, however, a small artisan studio is not a viable or affordable option to have such certification. Another issue is large brands that have certifications can essentially pay to get them and, in some cases, pay for their own independent certifications, which means they are self-governing and self-certifying. But that's a blog post for another time…
Work in Progress
We understand that every year that goes by, there will be new revelations on certain products or processes that may not have been as 'ethical' as we think they are now. We will continue to review everything we do and see how we can do better. Being a small brand, we can adapt, change and pivot with new systems and technologies in place. We appreciate that any manufacturing process is not completely energy neutral and will always work to minimise our consumption, usage and waste.
We hope this has been enlightening for you and if there you have any suggestions on how we can improve our ethical practices, please email here and we will try to implement these where possible.